Local Artists They Drift and Ksra Bring the Talking Rain Sasquatch to Capitol Hill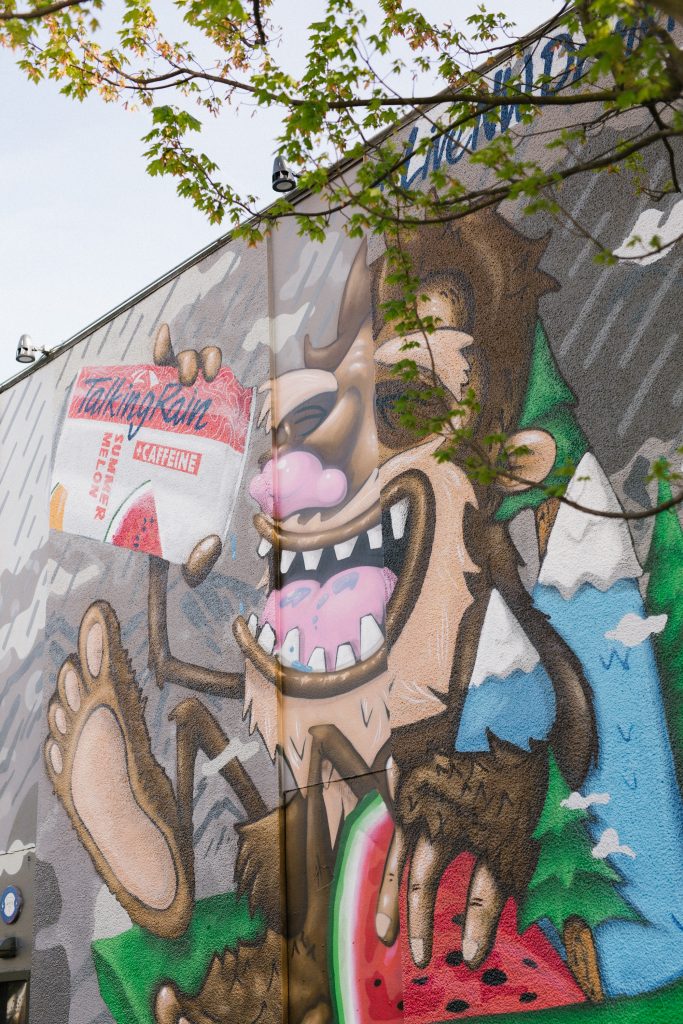 If you happened to be near the corner of Pike and 10th in Seattle's Capitol Hill Neighborhood during the months of May or June, then you may have witnessed your first Seattle Sasquatch sighting. Talking Rain Sparkling Water recently collaborated with local talents, They Drift and Ksra, for a mural series promoting the new Live Northwest Drink Northwest campaign. We caught up with the creative minds behind the mural to learn more about the artists' work and how they came to call the Northwest home.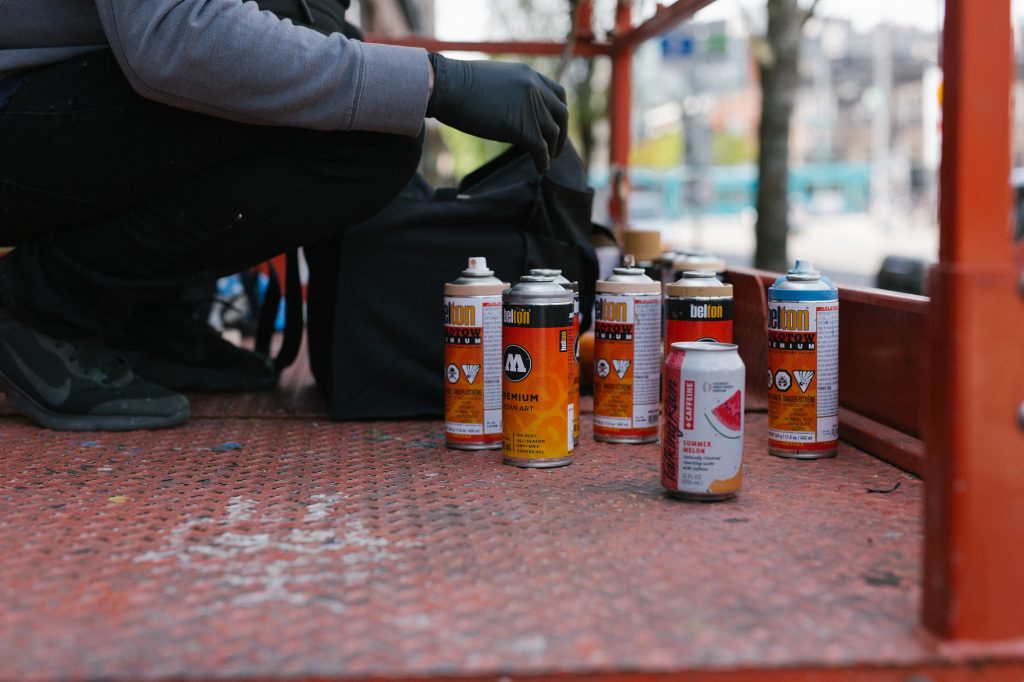 Carlos Giovanni (aka "They Drift") was born in Compton, California while Ksra, who prefers to remain anonymous, hails from the Southeastern United States. The couple met twelve years ago in Memphis, Tennessee through a mutual friend in the local art community. Both coming from a graffiti background, they started painting together and eventually worked up to painting bigger walls and completing large scale murals, and eventually got engaged. They moved to Seattle 10 years ago where they opened their own studio.
Carlos's creative background hails from a mixture of surrealism, graffiti, cartoons, and lowbrow. "It's difficult to place my art under one movement or category because it's a mix of inspirations, says Carlos. The duo's collaboration with Talking Rain started with a given concept of a Sasquatch, the Talking Rain Sparkling Water can, and nature. Their artistic approach was to create an image that was relatable and relaxing.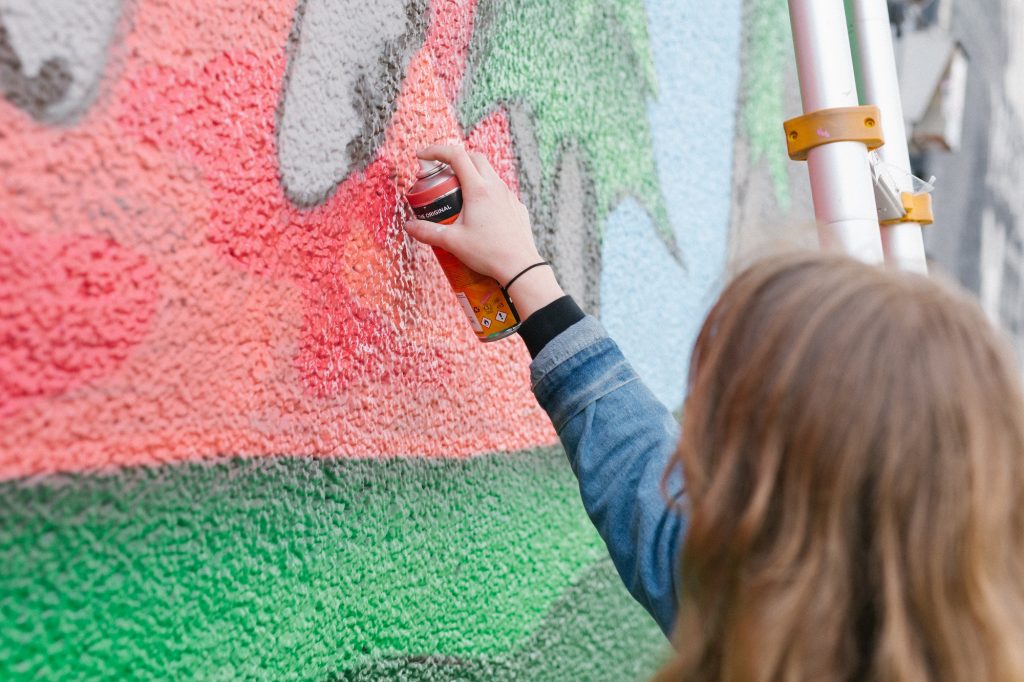 Besides murals and spray paint, the couple enjoys sculpture and screen printing. Carlos will design toys and Ksra will sculpt, bringing them to life. They also make scenic pieces via dioramas, acrylics, and watercolors.
"To keep creative juices flowing, we find inspiration in art and concepts we see on social media, and sketch concepts during the winter to create when the weather clears up" explains Carlos.
In addition to travelling internationally at least once a year, the couple travels frequently throughout the country, spray painting walls and painting with fellow artists along the way.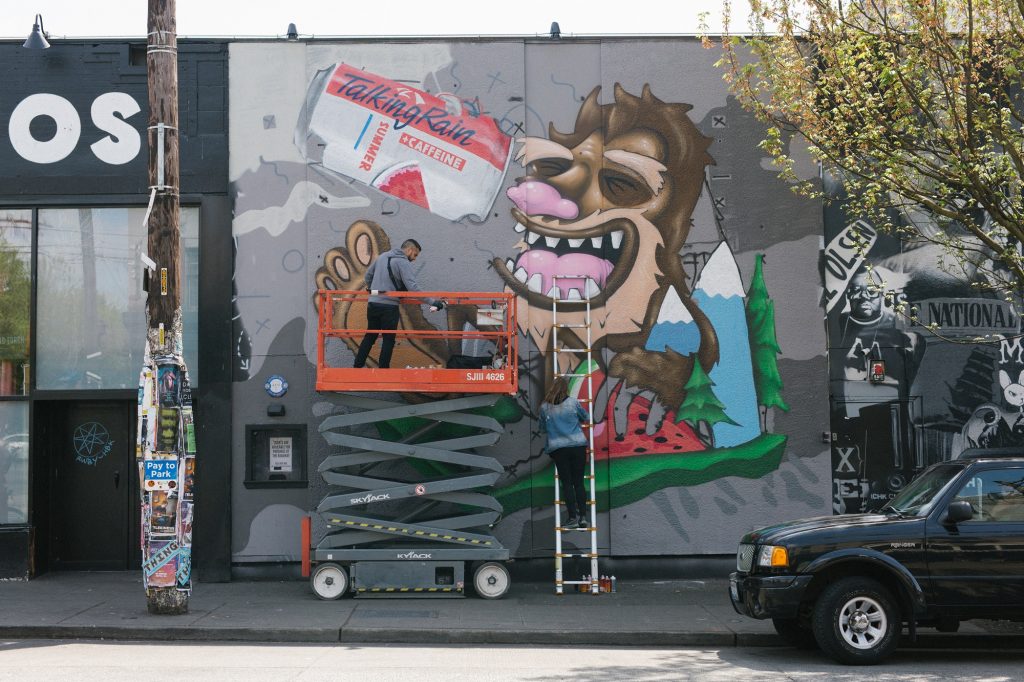 To see more from They Drift and Ksra, be sure to check out their artwork on Instagram: @theydrift and @ksra_ksra